Supa Products
Supamoss: "The Natural Moss Alternative"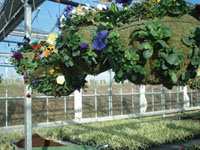 Supamoss basket liners have the look of natural green moss and effortlessly retain their appearance throughout the season. This unique product is made from natural reclaimed fibres which are environmentally friendly renewable resources. The naturally dyed fibres are reinforced with a flexible lining material which provides excellent water retention properties while allowing for sufficient drainage. This versatile all-in-one liner holds its shape in larger containers, lends itself to easy side-planting and is suitable for any type of hanging basket or patio planter.

Introducing ECOMOSS
The environmentally friendly basket liner at uses 100% biodegradable plastic as an inner liner to retain water!!!
Features and benefits include:
• Superior water retention (perforated to allow drainage)
• Excellent performance in drought conditions
• 100% oxo-biodegradable plastic liner
• Degrades leaving no residue, methane or fragments
• High absorbency natural/reclaimed fibres
• Only natural dyes used to enhance appearance
• Can be cut to size and allows for easy side planting
• All packaging is recycled and 100% biodegradable
• Flexible, quick, clean and easy to use
Supamoss Products
PL-SUPA1 - Retail Pack - 24" squares packed in cases of 50. Will line approximately 50 - 16" baskets.
PL-SUPA2 - Commercial Roll - 175' x 24" roll. Will line approximately 80 - 16" baskets.
PL-SUPA5 - Commercial Roll - 200' x 16" roll. PL-SUPA6 - Commercial Roll - 200' x 18" roll.
PL-SUPA7 - Bulk Squares - 24" unpackaged squares packed in cases of 50. Will line approximately 50 - 16" baskets.
PL-SUPA11 - Commercial Roll - 100' x 24" roll. Will line approximately 50 - 16" baskets.
PL-ECO: Ecomoss– **New Product** 24" squares, cases of 30. Environmentally friendly and biodegradable plastic backing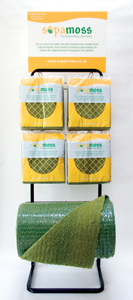 Supamoss Product Displays
PL-SUPA3 - Supamoss Display Stand - Combo Rack. Holds one roll and 100 single retail packs. (RIGHT)
PL-SUPASR - Supamoss Spinner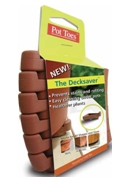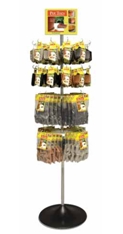 Supamoss Pot Toes
PT-06TCCS - Pot Toes 6 Pack Terracotta Clip Strip (4 strips of 6) - 24/Case

24" x 6.5" x 5" - 6.5 lbs

PT-06LGCS -

Pot Toes 6 Pack Light Gray Clip Strip (4 strips of 6)

- 24/case - 24" x 6.5" x 5" - 6.5 lbs

PT-06BLCS -

Pot Toes 6 Pack Black Clip Strip (4 strips of 6)

- 24/case -

24" x 6.5" x 5" - 6.5 lbs

PT-12TCHT -

Pot Toes 12 Pack Terracotta Bagged - 12/case - 12" x 9" x 9" - 7 lbs

PT-12LGHT -

Pot Toes12 Pack Light Gray Bagged - 12/case -

12" x 9" x 9" - 7 lbs

PT-12BLHT -

Pot Toes 12 Pack Black Bagged - 12/case -

12" x 9" x 9" - 7 lbs

PT-FD-06 -

Pot Toes Display Unit - 1/case - 20" x 20" x 5.5"- 8 lbs